Panel Radiators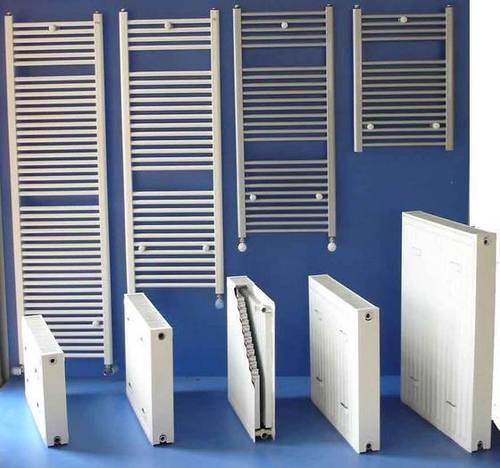 Panel Radiators
Product Description
The Panel Radiators offered by us is manufactured at our well-equipped production unit using the finest quality components and ultra-modern technology in compliance with international quality standards. We have marked a distinct position in this domain by manufacturing and supplying the best assortment of this radiator that is widely admired by our patrons. Offered product is mainly used in doors and windows. Moreover, offered Panel Radiators is available in different technical specifications at affordable rates.
Features:
Strong construction

Ease of installation

Rust proof body

Superior functionality
Other Info:
With an outstanding choice of heights, lengths and flexible connection options, these high performance panel radiators provide an ease of installation and production excellence that is suitable for the most demanding of specification requirements.
Radiator Standards
Compact ventile and thermostatic valve options

Maximum resistance to corrosion by epoxy polyester powder painting technology

Different color options besides standards RAL 9010 color

Special packaging and export palletization system against possible strokes

All accessories are included in the package

10 year Guarantee

100% quality control system for quality control reports

Exceptionally slim design enables space saving.
Technical Specifications




Type

Height

10oC

12oC

15oC

18oC

20oC

22oC

24oC

26oC

Mm

Watt

Kcal/h

Watt

Kcal/h

Watt

Kcal/h

Watt

Kcal/h

Watt

Kcal/h

Watt

Kcal/h

Watt

Kcal/h

Watt

Kcal/h







10-P

400

712

612

685

589

647

556

609

524

585

503

561

482

535

460

510

436

500

896

771

851

741

813

700

768

561

737

634

703

605

672

578

640

551

600

1035

891

998

858

942

810

887

763

850

731

814

700

777

668

741

627

900

1507

1296

1452

1249

1370

1178

1289

1109

1235

1062

1183

1017

1129

971

1076

925




11-PK

400

1192

1025

1147

956

1079

928

1012

870

968

832

925

796

880

757

837

720

500

1394

1200

1341

1154

1262

1086

1183

1018

1133

975

1082

931

1030

886

980

843

600

1633

1404

1571

1351

1478

1271

1386

1192

1325

1140

1268

1090

1206

1037

1148

987

900

2288

1968

2201

1893

2071

1781

1943

1671

1859

1599

1776

1527

1691

1454

1809

1384




21-PKP

400

1641

1411

1578

1357

1484

1276

1392

1197

1332

1145

1271

1083

1211

1041

1151

990

500

2110

1816

2031

1748

1915

1648

1800

1549

1724

1484

1650

1420

1571

1352

1497

1288

600

2162

1859

2079

17488

1956

1682

1835

1578

1756

1510

1676

1441

1597

1373

1519

1350

900

2912

2504

2801

2409

2637

2258

2476

2129

2368

2035

2261

1944

2156

1854

2050

1763




22-PKKP

400

2298

1975

2211

1901

2083

1791

1956

1682

1873

1611

1790

1539

1705

1466

1623

1396

500

2674

2301

2567

2209

2415

2078

2272

1955

2175

1872

2075

1787

1961

1705

1881

1619

600

3227

2775

3103

2669

2920

2511

2740

2356

2521

2254

2504

2153

2384

2050

2267

1950

900

4271

3573

4107

3532

3852

3321

3621

3114

3463

2978

3307

2844

3147

2706

2982

2573




33-PKKPKP

400

3390

2915

3260

2805

3072

3642

2886

3482

2763

2376

2641

2271

2516

2164

2396

2061

500

3993

3436

3839

3304

3515

3111

3394

2921

3215

2798

3107

3674

2598

2546

2818

2425

600

4540

3912

4376

3763

4119

3562

3867

3326

3700

3182

3536

3940

3358

2896

3204

2755

900

5563

4784

5349

4600

5031

4327

4718

4057

4512

3580

4310

3707

4101

3527

3898

3352
Contact Us
F-138, Mayapuri Industrial Area, Phase II, New Delhi, Delhi, 110064, India
Phone :09311805200